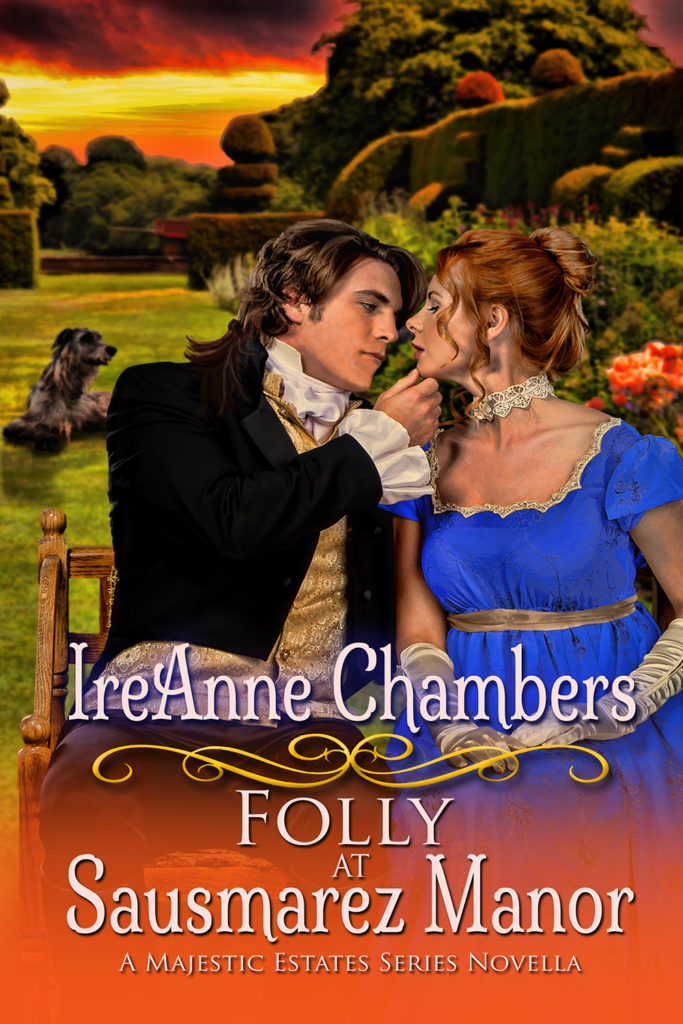 The folly begins when LADY CORDELIA "DELIA" RUTLEDGE and her family visit Sausmarez Manor on Guernsey Island in the fall of 1801. And why not? It's the perfect stopover on their way to the continent for reasons that can only be discussed in confidence, but don't worry. Secrets are safe inside FOLLY AT SAUSMAREZ MANOR.
LORD MARSHALL COMPTON, Marquess of Daventry, and archeologist extraordinaire certainly isn't aware of their visit until he offers to escort Delia to see prehistoric ruins on the island. Big mistake. This piece of chivalry lands him a fiancée he's not sure he wants, in-laws he knows he can do without, and run-ins with the Russians. Or are they pirates? Another question only to be revealed in strictest confidence. One thing is sure. Marshall's plans for an Indian expedition are definitely lost. Maybe.
SAUSMAREZ MANOR is home to Admiral James Saumarez, 1st Baron de Saumarez. It's a little-known secret that Delia's father, the Earl of Deloraine, was put in charge of Nelson's Band of Brothers. Oops. Maybe that tiny on dit should be kept quiet. We certainly can't have Little Boney getting wind of it.
Admiral Saumarez, Captain of the HMS Orion, has plenty of responsibilities with the naval activities and privateering going on in the region. One more thing is sure. He'll protect his home at any cost and Deloraine knows it. Saumarez's Scandinavian ancestors have lived there since the 12th Century. In fact, it was only just repurchased back in 1748 using money from the capture of the world's richest treasure ship to date. Now that is an adventure on the high seas waiting to be told! Saumarez will not lose his home again. Not to the French, not to anyone. After all, SAUSMAREZ MANOR is the finest example of Queen Anne Colonial architecture in Britain thanks to Sir Edmond Andros and his renovations.
All questions about the FOLLY AT SAUSMAREZ MANOR will be answered soon. As for Deloraine and the admiral, they're busy with their intelligence work. Thankfully for the admiral, the Rutledge girls and their mama are only there for a few weeks while they face tombs, witches, fairies, and pirates. Maybe.
Have you found your way to one of history's majestic estates? Tell me where in this beautiful world they're hiding. Maybe I'll use it for the setting of one of my books.
Sign up for my newsletter so you'll find out when this book is available for download. You'll get a free book.  Scroll down to the bottom after the comments to sign up.
You can also find me at:
References:
http://www.sausmarezmanor.co.uk/
https://en.wikipedia.org/wiki/Nelson%27s_band_of_brothers
https://en.wikipedia.org/wiki/James_Saumarez,_1st_Baron_de_Saumarez
Chambers, IreAnne, Folly at Sausmarez Manor, Purple Storm Publishing, 2018